Welcome to the Catpin Bubble Test Generator. This program serves the Bubble Test as a PDF file. You can print the PDF for a pixel-perfect rendering, and/or save the PDF file on your PC, just like any other PDF file. This program uses cookies and temporary file storage to 'remember' which sheet and which template you have used.

It's really important to know that each time you generate a sheet, the program serves you the test-sheet PDF to "open" or "save" on your computer. It also saves your sheet design using a 'cookie' on your PC. If you come back a few days later (on the same PC), it will restore your last session. That makes it easy to create another sheet because your header (teacher name, room, etc) will be the same as your last test.

The newest version now offers the ability for you to use your own PDF template. By creating your own template (using whatever PDF software you wish to use), you can then upload your template, create your bubbletest sheet, and the two PDF files will be merged into one PDF.

This layout design is "free-form", meaning you can type whatever you want on each line. Start by creating your test sheet "header".

To open a green form, click on the bar that says, "Text Line 1" ...
Here is an example of one line that appears on the header: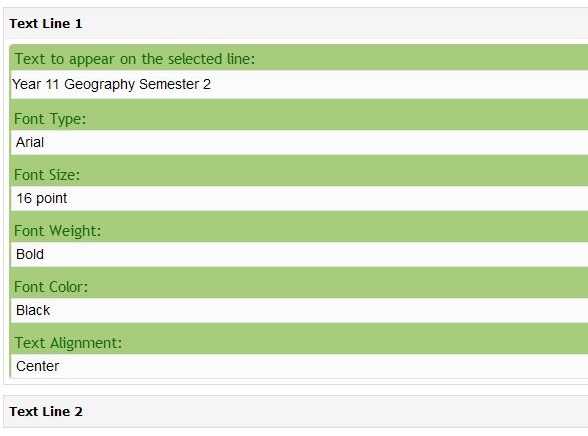 Other examples might be ...
Teacher: Mr. Smith Room: S100 Quarter 3 Test

On the title bar named "Text Line 2", or perhaps "Text Line 3", you might enter something like this:
Name: ___________________ Date: _________________

You decide what you want. Lines that do not contain text will not be printed. You may use as many of the 5 lines as you wish. If you want to switch lines around, you can grab the "handle" of the Text Line, slide it and drop into another position. If you wish to use a template, make the title lines 'blank' so it leaves room for your template letterhead.

Creating the bubbles

You have 25 groups to create different sets of bubbles. Each group can be numbered however you wish, and you can position them in any column (up to 5 columns). Mix/match your groups, add a caption with each group, and as with the header "text lines", you can drag them around for re-arranging. Your only limitation is the physical size of the paper sheet. The PDF "engine" will only render within a defined sheet size. Step-3 (Options) is where you can select paper sizes and orientation.

Here is an example of one group of bubbles: And this is the result: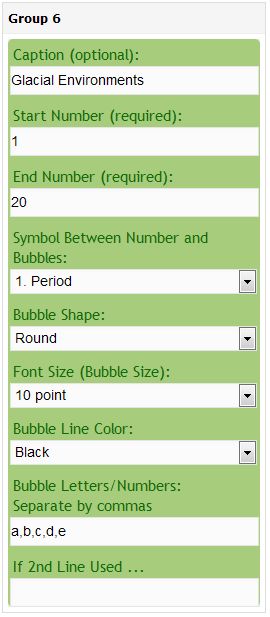 The group requires a "Start Number" and "End Number" for each group. If omitted, that group will not be printed. Pick the shape of the bubbles, the font size, the color, etc.
The 'letters' or 'numbers' in the bubbles are determined by you. Enter them separated by commas only.
Examples of entering bubble contents:
a,b,c,d,e
1,2,3,4
T,F
a,b,c,d,e,f,g,h,i,j,k,l,m,n,o,p
+,-
Y,N
Thinking outside the box ... creating empty bubbles:
(use commas without any letters or numbers) ...
,,,,,,
To make a black line for students to write-in answers, use underscore .....
Make it any length (do not use commas) ... _____________________
You'll learn to play tricks like this too.
_VERB:__________________________
If you require a 2nd line (for TCAP style), Enter the 2nd line as instructed ...
a,b,c,d
e,f,g,h
By using that option 2nd line, the program will number them accordingly, in the TCAP style.
To create numbers with NO bubbles at all, just enter "Start Number" and "End Number" and leave the a,b,c,d lines empty.
As you experiment, you'll discover the need to move groups around so the "layout appearance" of the sheet is easy on the eyes.
Here is how to open/close the dialog for each line, and "grabbing the handle" to move the line to a different position.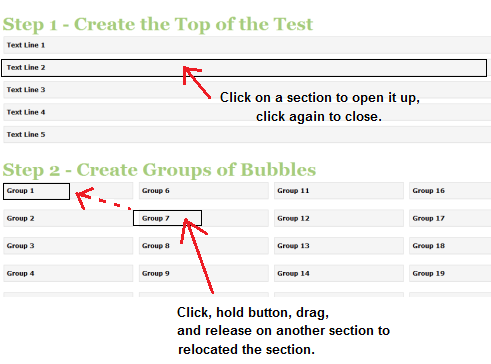 IMPORTANT NOTE:
Keep in mind that this program is being developed. There are things not yet finished. I have not done math grids yet. I have not completed instruction/score boxes on the test. You may find bugs or annoyances that I need to know about. Use the "Contact" box to let me know what your experience is (Good or Bad). The "original" Bubble Test Generator will remain as long as needed.

Utilizing the "Data Management" section, you can import/export a test sheet data. This feature will allow you to save and recall Bubble Sheets from your PC, regardless of cookies. All files are saved as XML type files. You can edit them with Notepad or some other simple text editor. These are plain text files only, no formatting or rich-text. Don't use Microsoft Word to edit an XML file.

This program is FREE. Use it whenever and wherever you wish without paying for it. I rely on donations to pay for the webhost account, so I am very thankful for any donations I get.

You can distribute, print, or do as you wish, with any PDF sheets generated. If you want to recognize this website in any form (blogs, articles, emails, forums, word of mouth), please do so ... I appreciate that very much.

Regards,
Max Seim
Catpin Productions
Cottage Grove, Minnesota USA

Inquiries to: bubble@catpin.com